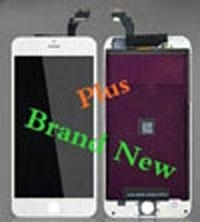 Complete Original iPhone 6 Plus LCD Assembly
with Original LCD , Original LCD Flex Cable , Original Front Glass,Original Glass Flex Cable,Original Backlight, Original Frame.
1. 100% Complete Original,
without changed glass, frame ,flex cable ,or backlight.
2. There are three brands
Sharp ,LG, JDI with some tiny differences.
3. Most of time at the moment ,
Complete iPhone 6 Plus LCD Assembly is without Words or QR Code on the backlight.